Stay up-to-date with information about the WVAPDC and related news and events.
Who We Are
The Wahiawā Value-Added Product Development Center (WVAPDC) is a 33,000 square foot food manufacturing facility located in the town of Wahiawā in Central O'ahu. Our center is a resource for food entrepreneurship and education. We offer product development consultation services, lab testing and production kitchens.
We serve Hawai'i's producers, processors, entrepreneurs, farmers, and students. We are committed to taking value-added food and beverage products to market and advancing Hawai'i foods across the globe.
Processing areas (wet and dry)
Allergen kitchen
High pressure processing (HPP) pilot plant
Refrigerated storage
Packaging area
Shipping and receiving area with docks
Mezzanine for co-working and educational opportunities
Lanai for events with demonstration kitchen area
Multi-purpose meeting classroom
Add value to Hawai'i's agricultural and food industries.
Deliver excellent client-oriented services in a timely manner.
Be accessible to diverse audiences, with emphasis on underrepresented and underserved communities.
Provide relevant and quality educational training and workshops for students.
Be leaders in product development, educational growth and food safety.
Train future leaders in the food sector.
Benchtop Product Development
Our product development staff emphasizes a client-oriented, interactive, and hands-on approach.
We work across product categories to:
Ideate and develop innovative food and beverage product concepts.
Support troubleshooting formulation or production issues.
Explore ingredient solutions (local, organic, sugar-free, etc.).
Identify improvements and efficiencies in production.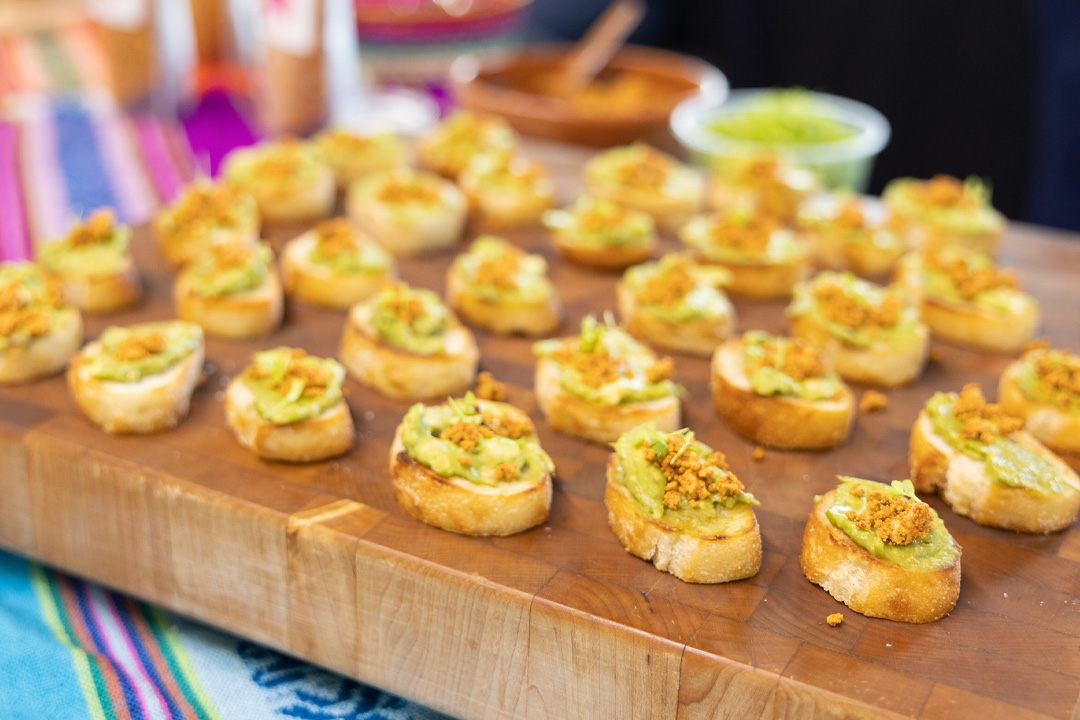 STEP 1: Connect
Complete our New Product Development Project Initiation Form and sign our confidentiality agreement. (Your ideas and recipes are safe with our team!) We will set up a 30-minute call to discuss your ideas and objectives, and see if we're a good fit for you.
STEP 2: Proposal
Our team will put together a proposal that outlines our plan of action to help you achieve your goals. This will include a project plan, deliverables, and our estimated cost for services provided.
STEP 3: Approval
Upon approval of our proposal and project plan, we will execute a project contract. At this point, we are still able to work with you to make changes and modify our proposal.
STEP 4: Project Kickoff and Ideation
Letʻs get to know each other! This meeting will give our teams an opportunity to discuss your project vision in more detail to make sure our goals and objectives are aligned. We will review your concept, competitive products, discuss details about ingredients and nutritional requirements, and strategize how we can bring this product to the market!
STEP 5: Setup and Sourcing
We will review your ingredients and production process, identifying ingredient suppliers that align with your company's philosophy and product requirements. While we prioritize ingredient suppliers in Hawai'i, we will leverage our additional connections to make sure that we are sourcing the right ingredients for your product. Our aim is to begin benchtop development work with industrial ingredients and avoid unnecessary reformulations later. We will also work to mimic the production process likely to be used in manufacturing during our benchtop production so that the transition to scaleup can be as seamless as possible.
STEP 6: Benchtop Formulation/Re-formulation
Our team will work in the kitchen lab to turn your ideas into a prototype. We rely on our technical expertise, culinary skills, and creative thinking to innovate new products. We'll present a range of viable prototypes for you to evaluate in an initial tasting. We will use that feedback to inform reformulations. Throughout this process youʻll remain in the driver seat, telling us what works, what doesn't, and which direction to explore further.
STEP 7: Scaling
Whatever 'scaling' means to you, we'll meet you there and assist with the transition from benchtop to production. After benchtop formulations are approved, we will work with you to ensure you have all the information needed to manufacture products. If you're planning on working with a co-packer, we'll help you connect, transfer knowledge and prepare product samples.
STEP 8: Final Reporting
After our work is complete, we'll transfer all our project information to you and your team. Our reports will include product formulations, ingredient specs and supplier contact, production process flow charts, QA information, lab reports (if necessary), and a comprehensive review of all work completed.
Making decisions about your recipes, products, or production processes can be difficult and complex. We provide a less intensive environment to share our expertise and help you troubleshoot challenges and make informed decisions.
Our consultation time starts at one hour but, If one hour isn't enough, we can schedule longer blocks of time. In many cases, we'll work directly with you in our kitchen lab to taste, smell, touch and create (or refine) your product as a team. During the consultation, we'll share food science knowledge, food safety considerations, production techniques, and other observations.
To set up a consultation please contact crbailey@hawaii.edu or schedule (coming soon).
We offer a variety of standalone food product testing and services to help you with your product needs. This includes:
pH
Water activity
Brix
Nutrition facts panels
For more information, please contact crbailey@hawaii.edu.
High Pressure Processing (HPP) is a non-thermal (5ºC – 20ºC) food and beverage preservation method that guarantees food safety and achieves an increased shelf life, while maintaining the organoleptic and nutritional attributes of fresh products.
During this process, high pressure inactivates pathogens and spoilage microorganisms without the use of heat, preserving the original flavor, texture and nutritional properties of the product.
The WVAPDC has a state-of-the-art HPP machine for client use, the first in the state of Hawai'i. With close consultation from our product development team clients can test their product for shelf life and validation. Due to the complexity of the machine HPP pilot projects must be guided by a product development staff member. To set up a consultation for HPP Pilot services email crbailey@hawaii.edu.
Commercial Kitchen Incubator
The WVAPDC will have several commissary kitchen spaces in our facility. We welcome entrepreneurs in the beginning stages of their food business or who are looking to expand their small-scale business. We will have equipment on-site that will allow users to increase production capabilities and realize efficiencies. Some of the types of products that are ideal in our kitchens include:
Hot sauces and condiments
Cookies and baked goods
Fried chips and snacks
Jams and jellies
Commercial Kitchen Incubator FAQs
Keep your Student record updated
Make sure you're going to meet all of your degree requirements

.
Keep your student record updated.
How do I apply/contact the kitchen?
Fill out our kitchen inquiry form. From there you would schedule a tour of our kitchen space to see if it's the right fit for your needs.
How much does it cost?
We have prices that vary based on the time of night or number of hours you rent. Price rates to be determined.
What equipment is in the kitchen?
We have a state of the art, licensed commercial kitchen with plenty of amenities. Here is a list of some of the amenities. For additional questions contact us via email.
When is the kitchen open?
The kitchen is open Monday – Friday, 8:30am – 5:00pm. We want to make it easier for you to get started, and a flexible schedule helps as you balance work, business and family commitments.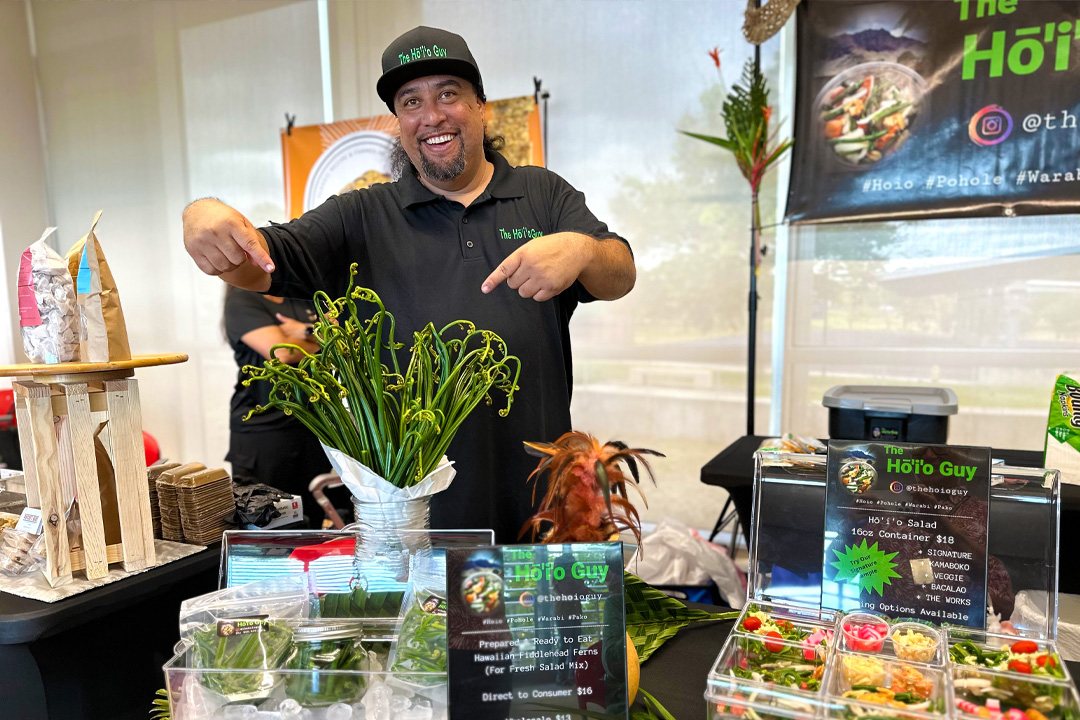 'Āina to Mākeke
Food Product Development Course
Cohort 2: May 1 – July 19, 2023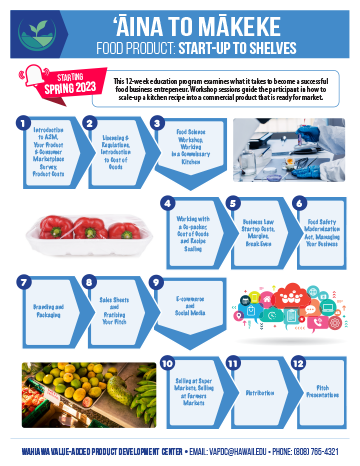 As part of the Hawai'i Ag & Culinary Alliance® From Cottage Industry to Commercial Enterprise Program, a scholarship for our 12-week course will be awarded to 15 local food entrepreneaurs who utilize Hawaiʻi-grown, raised or caught ingredients .
This 12-week course will cover what it takes to become a successful food business entrepreneur. Featuring industry experts, our workshop sessions start with the basics and take you through everything from consumer surveys, licensing and regulations, startup costs and business law, to marketing, distribution, and pitching your business. You will be equipped to upscale a kitchen recipe into a commercial product that is ready for market.
Cohort 2: May 1 – July 19, 2023
Deadline to apply for scholarship is March 31, 2023
Click the button below for program details and application.